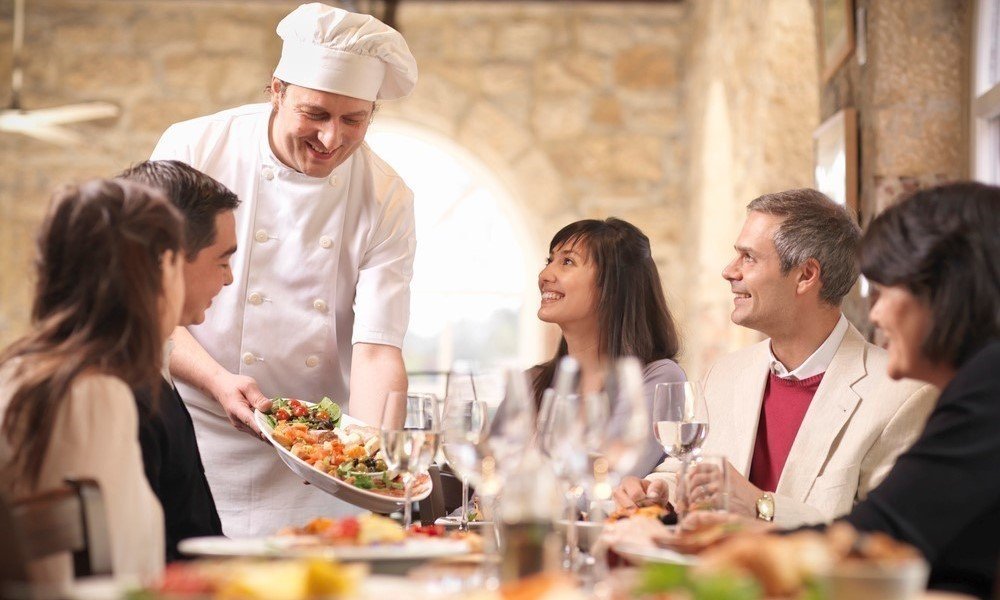 Imagine a restaurant where the customer is served by the chef rather than a waiter or waitress and no one haggles you for a tip… Now, before you chuckle at how absurdly idealistic that idea might sound, know that there is one restaurant in the U.S. that's betting its success on it.
According to Food Beast, a Los Angeles-based restaurateur is attempting to avoid complaints that stem from servers that are too slow, rude and/or get orders wrong, a Los Angeles-based restaurateur has decided against having traditional servers, letting the cooks be the waiters and waitresses instead.
Phillip Frankland Lee is the owner, operator and head chef of Scratch Bar and Kitchen on La Cienega Boulevard. He believes that servers having no knowledge of the food on the menu and, thus, needing to go to the kitchen to ask the chefs about the food wastes time and increases the likelihood of an order going wrong. He stated:
"I hate it when I go to a restaurant and someone takes my order and they don't know the menu. I wanted to have a situation where the only guy you're talking to is someone in the kitchen cooking."
While having no servers means no tipping, bills come with an 18 percent service charge. Frankland believes employees getting paid the service charge is a better form of salary than minimum wage with tips.
Scratch Bar and Kitchen is not the only restaurant in California shaking things up. Eatsa, a futuristic eatery, located in San Francisco has neither servers nor cashiers, having customers make their orders and payments via tablet.
In an interview with ABC News, Eatsa Co-founder and CEO Tim Young explained:
"So it is a proprietary system, but there are absolutely people back there, but really it's all about using technology to make their jobs more efficient. It's not putting anyone out of work; it's making their jobs more efficient and enjoyable, I like to think."
The concept seems to be a success so far, and Eatsa is already planning on expanding to other cities in the United States.
Are Eatsa and Scratch Bar and Kitchen the future of the restaurant business? Would you rather be served by traditionally servers or by the cooks? How about serving yourself? Let us know in the comments below.