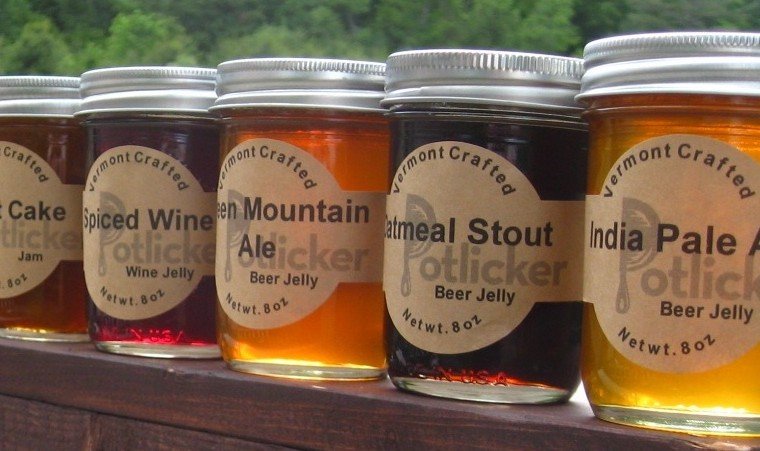 The proliferation of beer as a key ingredient in food continues to grow with beer jelly, a type of spread that may very well challenge Nutella. That's right, spreadable beer is here and could become mainstream…
While people have been making beer jelly around for quite some time (just see Etsy), the one from U.S.-based Potlicker Kitchen might be the first to come from a company. Potlicker Kitchen sells a range of spreadable beer available in different flavours, including Indian Pale Ale, oatmeal stout and apricot ale.
Beer jelly is exactly what it sounds like. According to Bloomberg, it is made by boiling beer with sugar and pectin, with the end result being placed in a jar to set. What you essentially get is a spread that tastes like original beer — minus the alcohol — but with a little more body.
The guys at The Drinks Business describe the dark brown oatmeal stout as "heady with roasted, yeasty flavours and a lot fruitier than you'd expect," adding that it goes well with brie and figs.
The Indian Pale Ale, on the other hand, supposedly has a "grapefruit and tropical fruit" taste to it and works best with soft cheeses, while the apricot ale offers the most "zing" and pairs well with dark chocolate.
According to The Telegraph, after years of dominance of chocolate spreads like Nutella, it may be time for beer jelly to finally spread its wings. Major U.K. supermarkets like Selfridges are already selling a new brand of more mainstream spreadable beer — Birra Spalmabile — that is described as "an ingenious collaboration between an Italian chocolate maker and an Italian beer brewer."
There is no trick to eating beer jelly — as with Nutella, all you have to do is spread it on a piece of bread or a cracker and munch away.
Have any of you ever tried beer spread? How did you find it?