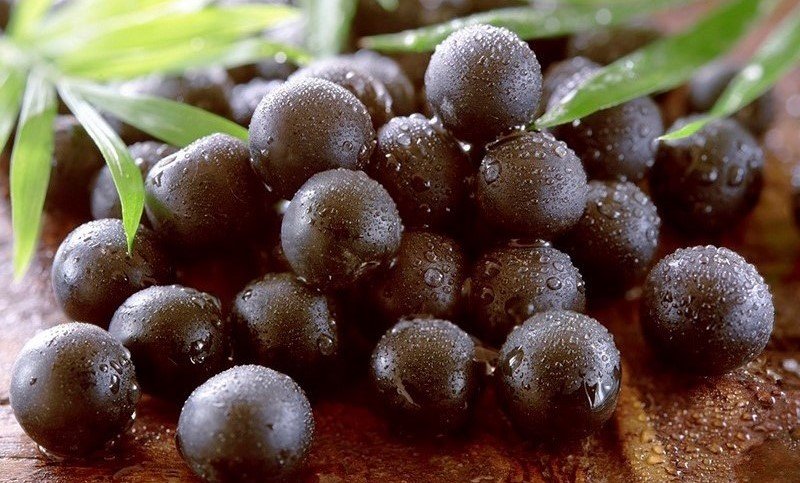 Like blueberries and spinach, the acai berry is touted as a 'superfood', one with supposed health benefits. Adding to the fact that just about every fruit is healthy for you, a new study has found that the nutritional content of acai berry juice fights cancer and potentially cures leukemia (cancer of the blood).
The acai berry traces its origins to the floodplain areas of the Amazon River and is similar in appearance to a grape, roughly the size of a blueberry, ripens to a dark purple color, and contains a large seed surrounded by thin layer of edible pulp. It decompose rapidly after being picked and so must be used or frozen quickly.
Leukemia, on the other hand, is one of the deadliest forms of cancer, killing someone every 9 minutes in the United States alone. That figure translates to nearly 155 people (mostly young adults in their 20s) each day or more than six people every hour succumbing to the disease.
Researchers at the University of Florida discovered that the extract from acai berries is effective at killing cancer cells typically unaffected by other therapies. When it was tested on leukemia cells, for instance, an astounding 86% of the cells self-destructed!
Although the scientific community has long known about the health benefits of the acai berry, particularly its high antioxidant levels, the fruit's new-found powers came as a pleasant surprise and has been confirmed by the Agricultural and Food Institute of Florida
The Australians seem to have gotten the memo earlier than others elsewhere around the world and have been quick to incorporate the fruit, along with noni, goji and mangosteen, in their diets. It's no coincidence that noni, goji and mangosteen are also considered to be high in antioxidant content.
As a matter of fact, aside from the acai berry, there are many fruits (grapes, guavas and mangoes, just to name a few) that contain antioxidants capable of destroying leukemia cells; however, as with acai berries, research on their efficacy have been preliminary at best and more in-depth studies need to be conducted.
The acai berry, in particular, contains nearly 75 chemical compounds, and the exact properties of many of them are as yet unknown. The fruit's extremely short shelf life also makes it difficult to study.
Fortunately, the University of Florida's study is just the first of many planned studies to come, so make sure to stay tuned to FoodTribute on the latest findings on the effects of acai berries on cancer and especially leukemia treatment.
Did you know what acai berries were before reading this article? Let us know in the comments below.