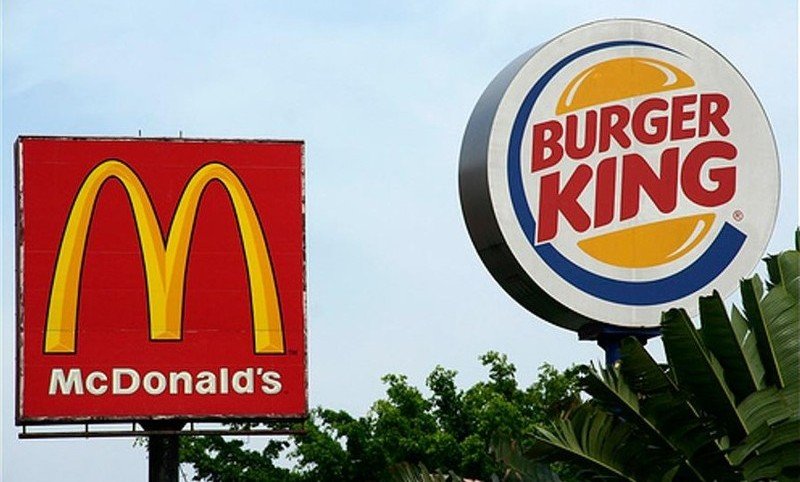 While not a fan of fast food, I have always liked the taste of Burger King more than McDonald's and always wondered why McDonald's has remained the king of the fast food world for as long as it has. Well, the times are changing because Burger King is finally beating its arch rival in the all-important sales race.
2015 will go down as one of the worst years for McDonald's, but one of the best for Burger King. McDonald's executives have attempted everything to lure customers back into their restaurants, including cutting back on menus and bringing back a revamped version of their Hamburglar mascot, but to no avail as sales continue to drop.
CHECK OUT: KFC Menu Adds Fried Chicken Pizza to Menu in Hong Kong
Burger King, on the other hand, has seen its sales surge, thanks in large part to a change in business strategy and a shake-up of their menu. According to Quartz, their success can be attributed to "innovative product launches" that include Chicken Fries, Extra Long Pulled Pork Sandwich and A.1. Hearty Mozzarella Bacon Cheeseburger.
The company's sales are a major step in the right direction for parent company Canadian Restaurant Brands International Inc., which was formed in 2014 after Burger King purchased Canadian breakfast chain Tim Hortons and moved its headquarters to Canada form the United States to save billions of dollars in taxes.
The Economic Times stated that Burger King's growth is even more shocking for beating the performance expectations of analysts. It seems McDonald's could learn a thing or two from its little rival's sales strategies.
Which one is your fast food restaurant of choice – McDonald's, Burger King or other? Let us know why in the comments below.