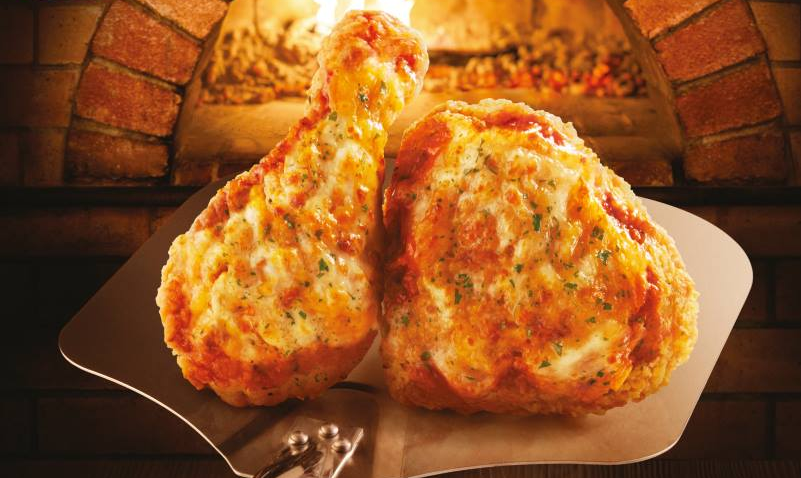 Kentucky Fried Chicken is well known for its odd creations, but their Hong Kong division has concocted something that is either genius or frightening — Fried Chicken Pizza!
It's all part of the American fast food chain's move to give its menu a makeover in the large Asian city, and the fusion of fried chicken and pizza — an idea thought to be impossible — will surely bring more buyers into their restaurants.
Called the 'Napoli Crispy Pizza Chicken,' KFC created the odd fast food item by adding a base of tomato sauce, breaded mozzarella and cheddar mix to their fried chicken classic recipe. And looking at it in pictures, it doesn't look as absurd as we originally imagined, although reactions on social media have been rather mixed to say the least.
Many Hong Kongers are shocked by the new recipe, with some on Twitter accusing KFC of running out of ideas. Do you agree with them or are you on the side of those who believe "dreams really do come true"?
Regardless, if it proves successful in Hong Kong, there's a chance that the fried chicken-pizza fusion will end up on KFC menus everywhere in the world and might even be borrowed by Pizza Hut and Taco Bell, both of which are owned by the world's largest restaurant company — Yum! Brands.
'Napoli Crispy Pizza Chicken' controversy aside, KFC is focusing strongly on their re-launched mascot, Colonel Sanders, having released a graphic novel called "KFC Presents: The Colonel's Adventure Comics" and an arcade-like game starring him. Will you read the comics or play the game?
More importantly, do you want KFC to bring the Fried Chicken Pizza to your city? Let us know in the comments below.